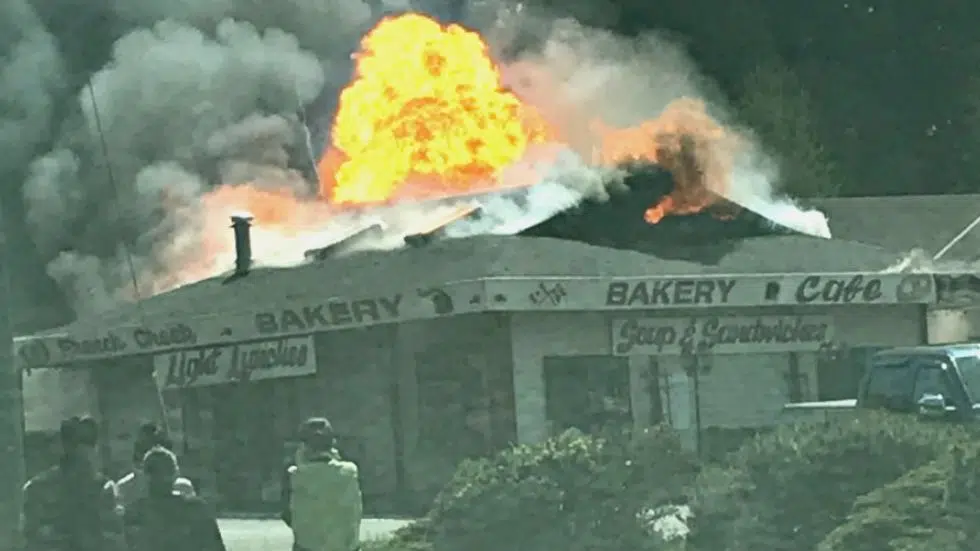 FRENCH CREEK — An apparent gas line explosion at the French Creek Bakery and Cafe sent flames shooting high into the air early Friday afternoon.
It happened at about 12:55 p.m. on April 28, according to Oceanside RCMP Cpl. Jesse Foreman. He told NanaimoNewsNOW it doesn't appear anyone was injured and he confirmed everyone made it out of the bakery safely.
He said the bakery is "completely gone, burned to the studs" and fire investigators are taking over the scene at the Breakwater Village plaza. Foreman said it doesn't appear any other buildings were damaged.
A man, who only wanted to be identified as C.J., was driving by at the time and noticed the building on fire. He then heard an explosion.
"As I was passing it, that's when it erupted. It literally moved my truck a full lane to the left, into oncoming traffic," C.J. said. "I felt the heat through my truck window, through my arm against my face as I was covering it."
C.J. said the explosion startled the several motorists traveling by at the time. He said from 50 to 60 metres away he could feel his skin burn.
"Basically everybody got blown back at that point and that flame probably traveled twice the distance of the building's width and height…it was ridiculous."
Highway 19A was briefly closed in the area and has since been re-opened, according to Foreman.
This story will be updated as more information becomes available.
On Twiter: @nanaimonewsnow