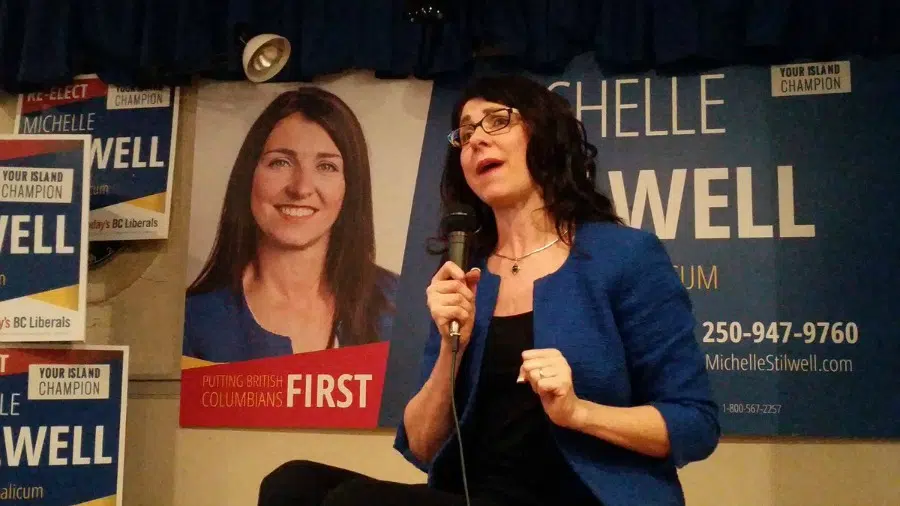 PARKSVILLE — Liberal Michelle Stilwell's nerves were tested a few times over the evening as the NDP's Sue Powell took the lead on the more than one occasion while the votes rolled in.
In the end, Stilwell is headed for a second term in Victoria with a comfortable victory over Powell and the Green's Glenn Sollitt. Based on preliminary results, with all 115 polls reporting, Stilwell earned 13,605 (45%) votes. Powell came in with 8,476 (28%), ahead of Sollitt's 7,671 (25%) votes.
After watching the results add up from home, Stilwell thrilled a crowd of around 100 people at the Parksville Legion with her victory speech.
"I've done everything I can to advocate for our community and do good thing for the constituents," said Stilwell. "Hopefully this is signifying people being happy with the work that I've done. Sending me back to Victoria is an incredible honour, such a privilege and I can't wait to get back there to start doing the work again."
Stilwell served the last two years as the Liberals Minister for Social Development and Social Innovation. She said being the only Liberal MLA on Vancouver Island for the last four years has been tough. There may be one more Liberal yet on the island, with Jim Benninger losing by only nine votes to the NDP's Ronna-Rae Leonard in Courtenay-Comox. Absentee votes won't be counted until May 22 and the riding will reportedly be headed for an official recount.
"We need more voices in Victoria for this island so we focus on jobs, we focus on fiscal responsibility and that the island has more of a voice."
In the 2013 election, Stilwell won the riding with 50 per cent of the vote. The NDP lost nine per cent of support in this election compared to last, while the Greens didn't have a candidate four years ago.