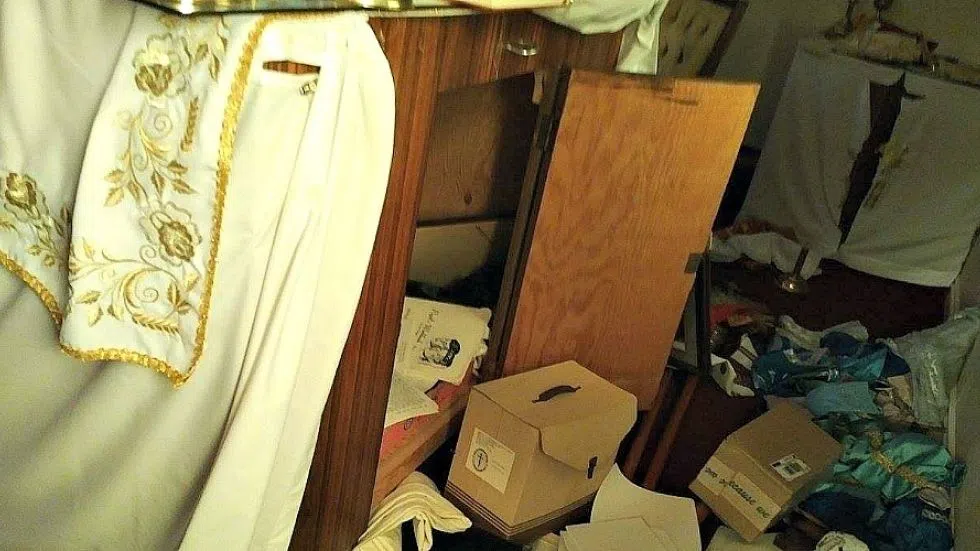 PARKSVILLE — A "disheartening" sight greeted a local reverend when he was called to his church on Monday after reports of a break-in.
Oceanside RCMP said the St. Mary's Ukrainian Orthodox Church was ransacked either late July 9 or early July 10 and the looter got into the church through a side window.
Nothing significant was stolen, but the church's reverend Chad Pawlyshyn said it was disheartening to see the damage inside.
"It's very disrespectful and it hurts," he said. "We see incidents like this all over our world and locally at times. It sadly shows where our society is falling apart. We have these misguided and sick individuals who need help but they're unable to achieve the help they need."
Photos from the scene, published on the church's Facebook page, show small items scattered everywhere and cabinets and closets thrown open. Pawlyshyn said it appeared as though whoever broke in was looking for something, possibly valuables.
In their time of need, Pawlyshyn said the Oceanside community has banded together to "get things glued up, which has been a real blessing. It's really drawn our community together a bit more."
The weekly perogie dinners, which Pawlyshyn said was one of the church's main fundraisers, will continue every Friday since none of their kitchen equipment was damaged.
The investigation into the break-in is ongoing. Oceanside Cpl. Jesse Foreman said they are working some leads based off the evidence recovered, but they do not have a suspect.
If anyone has any information, they're urged to call Oceanside RCMP or Crime Stoppers.