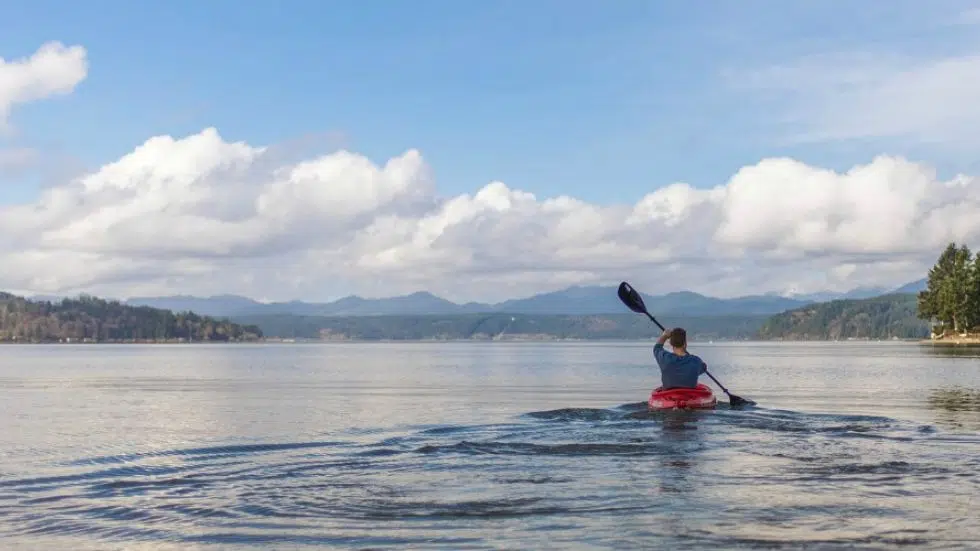 NANAIMO — The Trans-Canada Trail no longer has to skip over the Strait of Georgia.
The Salish Sea Marine trail, a 275 kilometres paddling trail stretching from Horseshoe Bay to Victoria officially opened over the weekend.
To mark the occasion, a flotilla of paddlers made their way across Nanaimo harbour to Newcastle Island for a traditional Snuneymuxw First Nation celebration.
Project manager John Kimatas told NanaimoNewsNOW the trail is a chance to fully explore the Strait of Georgia and see the varied terrain they otherwise wouldn't. It leads from Vancouver up to the Gulf Islands and across to Lasquiti and then down the coast of Vancouver Island.
"You get this transition to a very wilderness area because there's no established ferry service," he said. "And then you end up in Vancouver, which will be quite an ending after that journey."
Kimatas said tourism agencies on both the island and mainland often hear from tourists about how to boat or sail across and now those tourists can be accommodated.
"It's quite remarkable in the fact that it bridges two of the major urban centres in B.C., it's really a showcase of what southern B.C. and Vancouver Island has to offer."
The 275 kilometre trail is to be taken in over a matter of weeks.
"For a kayaker in good shape, you're not going to want to do more than 30 kilometres per day, so you're looking at about 10 days to two weeks to complete the whole thing at a fairly leisurely pace."
Though the trail has opened, Kimatas said there's still more work to be done. "What we're looking at is creating little trail centres along it, like here on Newcastle Island and other islands. There's lots to see and do."
Itineraries for each spot are also being developed.
On Twitter: @nanaimonewsnow.com