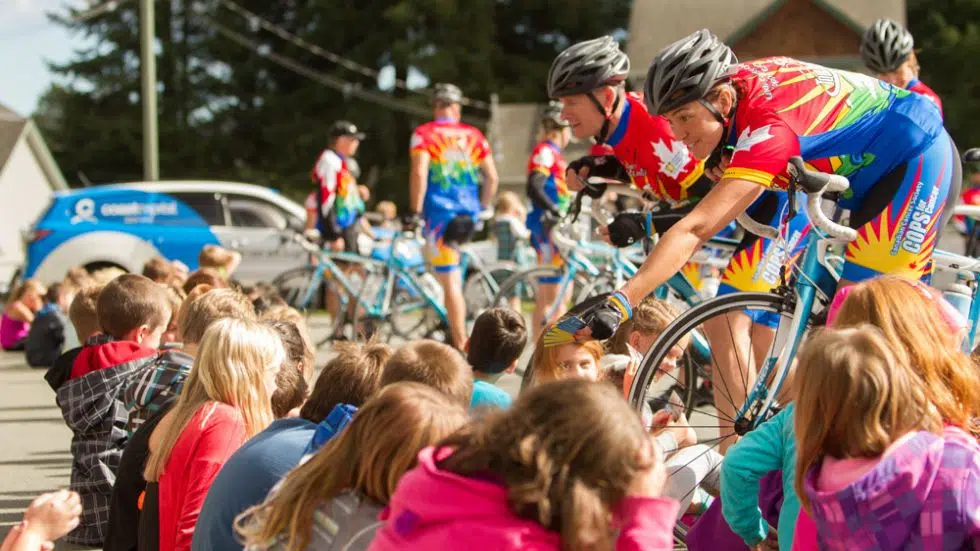 PARKSVILLE — Riders are set to hit the road for an emotionally and physically demanding experience in the name of raising money to help children fighting cancer.
The 20th anniversary version of the Canadian Cancer Society's Cops for Cancer Tour de Rock officially opened with a ceremony in Victoria Saturday, Sept. 23 before the team of 24 riders and support crew travelled to Port Alice to begin their journey.
There are two Nanaimo RCMP riders this year: Constables Kevin Flood and Samantha Caram.
"It's so great to see so many people that are supportive year after year. I want to experience that going to each community," Caram said.
The riders have put in countless hours of training and fundraising since April. Flood says the mock tour in August was a sign of what's ahead.
"With the support crew and all the people that are involved, it's a pretty amazing process," he said. "It was a short day in the sense in that we started and stopped just locally, but now we're going to do this whole ride, day in and day out."
Over the the last 19 years, the 1,200 km tour has raised over $22 million for pediatric cancer programs and research.
The tour stops in Nanaimo Oct. 1 for the annual gala dinner. There's also a community breakfast and lunch in Nanaimo on Oct. 2.
You can follow along with daily blogs, find out how to donate or what events are near you at tourderock.ca.