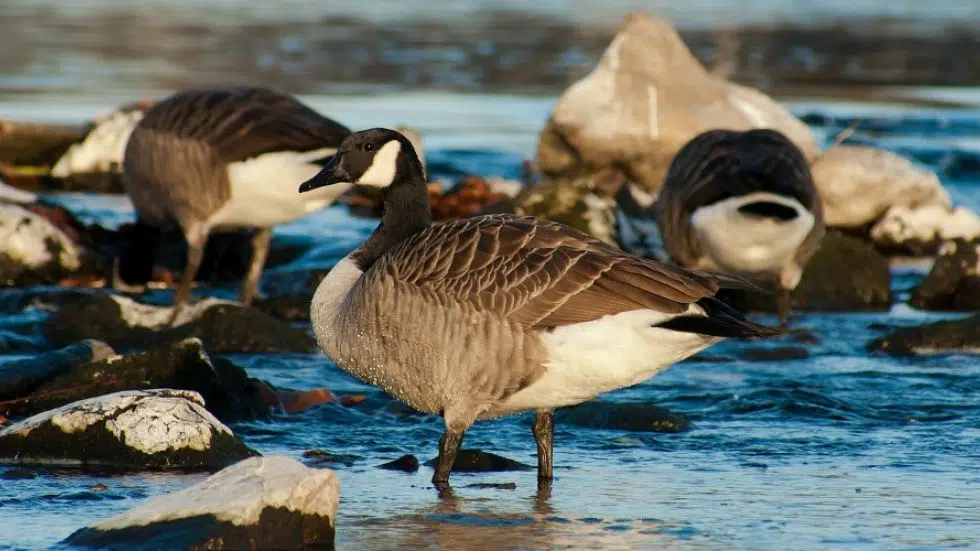 NANAIMO — A research project at Vancouver Island University's Nanaimo campus could have a direct impact on how cities manage their overwhelming Canada Goose populations.
It's showed there's between 1,600 and 1,800 during the winter in Nanaimo, many of whom don't migrate when they should and cause havoc on the environment all year round. Another 200 Canada Geese were collared and tagged in the second year of the project. 
"This information collected will help us move forward with determining the best management strategy of, for lack of a better word, population control," said Nanaimo environmental protection officer Kevin Brydges.
He said the overwhelming number of geese are leaving sports fields, walkways and beaches covered with droppings and conflicts with people are steadily on the rise. They're also doing significant damage to important estuaries in the area.
"These geese themselves destroy these areas by eating all the grass, which provide habitat and sediment stability in those areas. They do have a huge impact."
Brydges said while Canada Geese overrunning an area is a common problem, Vancouver Island faces a unique challenge since the birds were introduced to the area for hunting in the 1970's and 1980's and aren't in their natural habitat.
He's part of a regional discussion about how to handle the birds in a unified way. He said a major concern is if birds from one area, such as Nanaimo, will fill the gap left by birds being removed elsewhere.
Removing a significant amount of Canada Geese from an area is likely in Parksville's future. After a 2016 Canada Geese cull, which killed nearly 500 geese, Parksville council were receptive to a presentation about possibly doing it again in 2018.
Tim Clermont, vice-president of the Guardians of the Mid-Island Estuaries Society, said though the first effort was successful, another will be needed to bring the population numbers down to a more manageable number.
"They affect tourism, the ecology of our estuaries, sports user groups like soccer and baseball that complain about the droppings. They affect tourism when people come here to enjoy our beaches and you have lots of geese…sometimes they've had to close beaches."
Clermont said the damage done to the environment is now rippling out and affecting numerous other species, including area salmon. The fish stay hidden in specific plants for roughly six weeks as they transition from fresh to salt water and also to protect themselves when they're younger and weaker.
These plants were devastated by nearly 80 per cent, Clermont said, and have grown back quite well after the Canada Geese were removed.
If it does happen again, Clermont stressed it's a harvest since the meat is used by local First Nations and not a mass slaughter.
"It's no more grim than people shooting them. Canada Goose is an icon, it's a lovely bird when it migrates. When it stays in an urban setting and destroys the ecology and affects our native fish and wildlife species, it's an issue where we unfortunately have to implement a harvest."
He said a 2018 harvest would likely be the last one for some time, since environmental groups would resort to other management options to keep populations steady.
Parksville council didn't make a motion on whether to allow a harvest in 2018.
In Nanaimo, Brydges said the idea of a harvest hasn't been proposed but it is a tool they have in their toolbox.
When looking at other options to handle the issue, such as re-locating the birds, he said there's very few options which don't create more issues.
"There's strict guidelines and rules about where you can take them. And, to be honest, you're basically moving the problem from one place to another. These geese are smart, they're habituated and they will find their way back."
Story by Spencer Sterritt