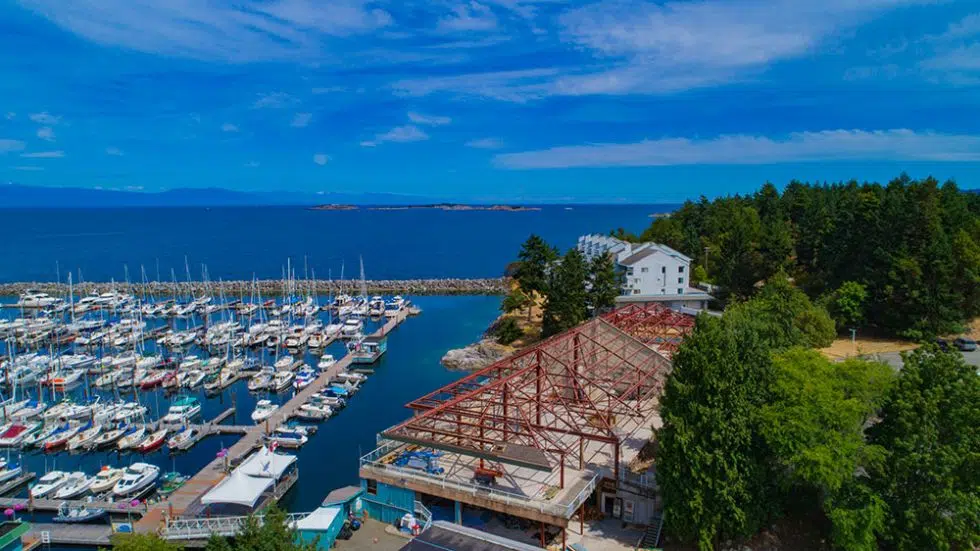 NANOOSE BAY — It's a major milestone in transforming the future of Nanoose Bay.
Seacliff Properties held a ground-breaking news conference Tuesday (Oct. 3) for Fairwinds Landing, which includes a total of 50 condominium units in two buildings, along with commercial space at the Schooner Cove Marina.
"We've heard from the community how excited they are to see the revitalization of the waterfront come around," Georgia Desjardins, asset manager of Seacliff Properties said at the event.
"We're very anxious to get underway with construction so we can provide the shops and services that they've been waiting so long for," she said.
Desjardins anticipated construction of the two buildings, which includes a six storey 39 unit condominium, will take 12 to 14 months.
The Regional District of Nanaimo (RDN) granted a development permit on July 25.
Desjardins said the necessary building permit would materialize "quickly".
"There is a very engaged community here, everyone cares deeply about the future of Fairwinds…we've had great turnouts at all of our public engagement events to date to get feedback to hear what the community really wants."
Desjardins said the vision is to create a commercial hub featuring a waterfront restaurant and pub along with room for about seven businesses adjacent to the Schooner Cove Marina.
Zoning is in place to build nearly 1,700 homes, most of them single-family, to be built in the nearby Lakes District. Desjardins said construction of the rest of the housing component is market driven and will take place over many years.
An excited RDN area E director Bob Rogers said most people in Nanoose Bay are excited about what developing the Schooner Cove area will do for the community.
"Whether people like the design that's a different thing, but the actual fact of rural village centres and the nodes here which will attract people to the community and make the whole of Nanoose more attractive to people is a good thing."
Rogers said adding to Nanoose Bay's limited commercial core could lead to many benefits, including improved public bus service. He said having businesses like a restaurant and shops at the site will be much appreciated after being gone from the property for the past several years.
"They (people of Nanoose Bay) want to see the project move ahead, they want to see the developer get on with it. I think this is a good sign to the community and to the public that it is going ahead."
In 2015 Seacliff Properties bought Fairwinds Golf Club, a nearby administration building and wellness centre, 350 slip Schooner Cove Marina and more than 750 acres of undeveloped land.
Story written by Ian Holmes