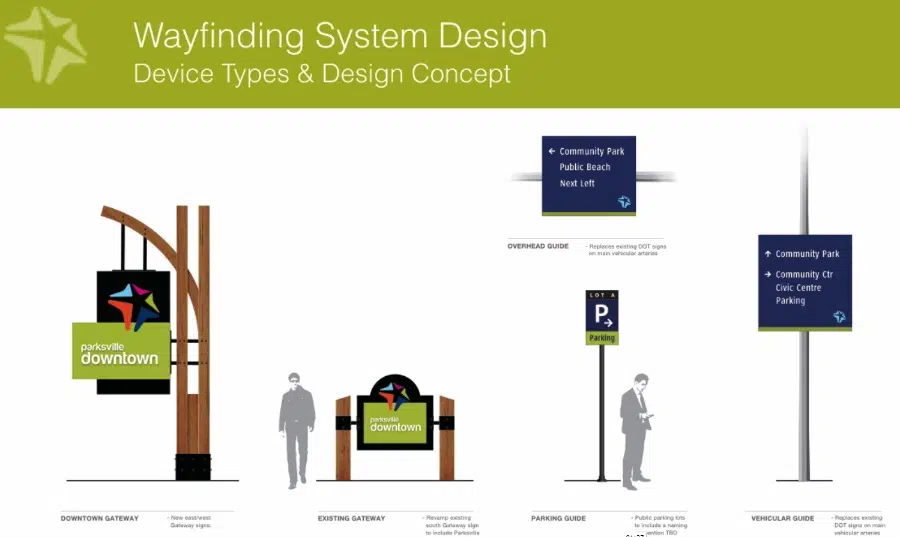 PARKSVILLE – An idea to better promote downtown Parksville has received a funding boost from City Council.
The Parksville Downtown Business Association recently provided council with an update on their Pedestrian Wayfind Program designed to improve the pedestrian experience, help brand downtown and stimulate the local economy. Association Executive Director Pam Bottomley says the drawings and location plans for 50 signs have been finalized.
"19 pedestrian, 16 vehicular, three gateway, two kiosks and 10 trail talkers," Bottomley said. "You'll recall from the assessment document that you saw a year ago, and documents since, what all those various device types look like."
Council was asked for, and approved, $54-thousand previously budgeted allowing the project to go to tender and ultimately the installation of the signs.
City Director of Engineering and Operations Vaughn Figueira says the next step in the process, in 2018, is fabrication and sign rollout.
"The program will be asking at that time for the release of the next 47-thousand. The final step, phase three, that will be in 2018-2019, and that will be the final installation to complete the project. So another 47-thousand dollar release."
The Wayfinding Program was as acknowledged as a key project in the 2013 Official Community Plan bylaw.
daryl.major@jpbg.ca