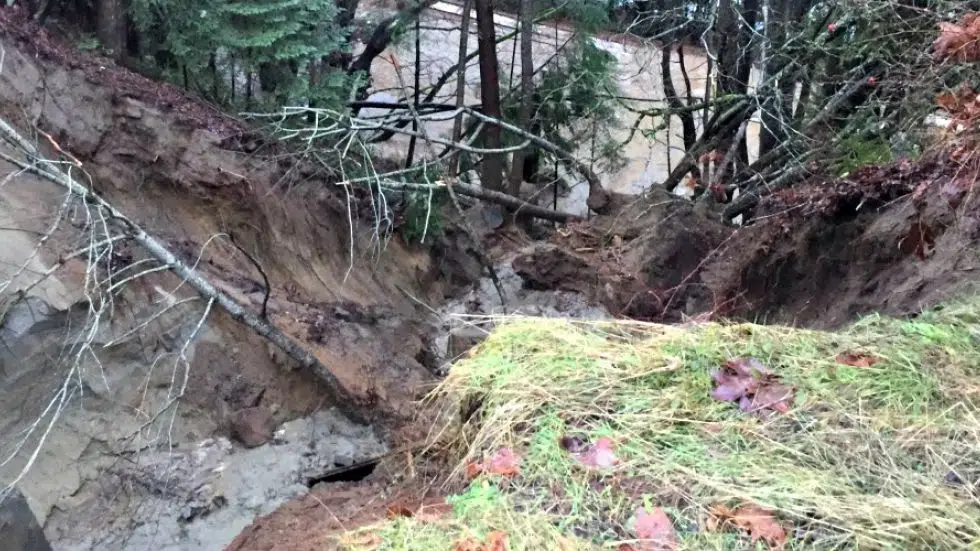 ANAIMO — Flooding and landslides across the mid-island region forced multiple road closures, evacuations and at least two rescue operations.
The Regional District of Nanaimo activated an emergency operations centre around 3 a.m. on Jan. 29 due to flooding in Parksville, Whiskey Creek and a mudslide in Lantzville.
Lantzville Fire Department deputy chief John Marment said they were called to Rumming Rd. around 12:30 a.m. for reports of a woman trapped in her car after being caught in the slide.
"The road was completely washed away," Marment said.
He said the woman's car was upside down at the bottom of the slide.
"We could see the vehicle but we couldn't do anything. It was just mud, water, rocks and trees continuously flowing down.
"(The car) was upside down and she standing on it. She had mud and water almost up to her waist. The vehicle kept on sliding down."
Marment said search and rescue teams setup lines. Despite the car continuously sliding during the rescue, they were able to get the woman out and take her to hospital. Her condition was unknown.
The RDN's Daniel Pearce said Martindale Rd. in Parksville, Melrose Rd. in Whiskey Creek, Rumming Rd. in Lantzville and Northwest Bay Rd. in Nanoose are all closed.
He said Melrose "is experiencing quite a large, gaping hole in the road."
Pearce said the Ministry of Transportation and Infrastructure had crews on-site at several locations and was waiting for daylight to properly assess the damage.
Parrys RV park in Parksville was also evacuated. "We had multiple different search and rescue teams assisting with a swift water rescue operation with that," Pearce said.
He said the 4:45 a.m. high tide passed without major incident and water was receding, "which is positive."
Pearce said if people are in immediate danger, they should call 911. Otherwise, flooding and road concerns should be reported to the RDN at 778-762-3553.
DriveBC reported water pooling on several sections of the highways running through the mid-island and debris on the road in Lantzville.
RDN updates can be found here or on social media.
Story written by Dan Marshall