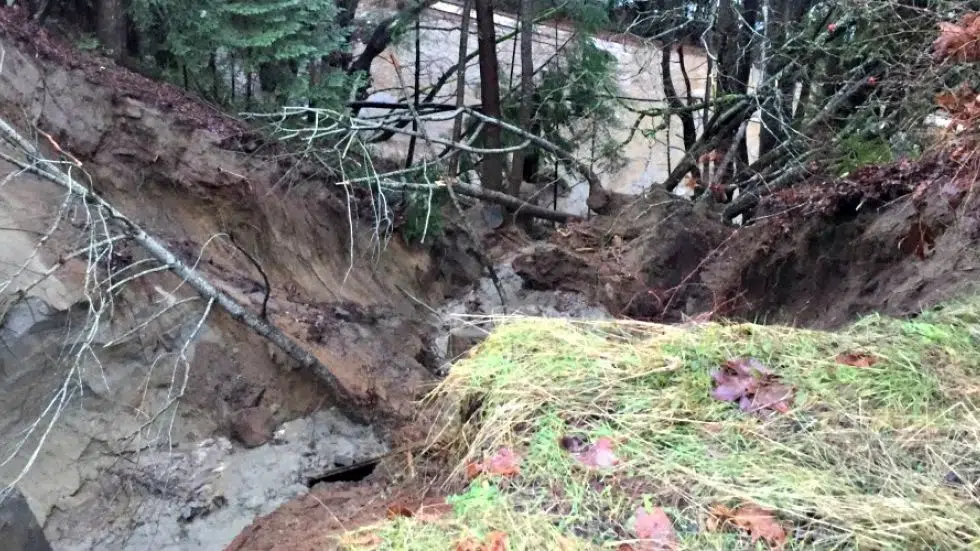 NANAIMO — Repairing the damage done by heavy rains and flooding Sunday and Monday won't be an easy fix.
Mike Pearson, the Vancouver Island district manager of transportation, said they'll have to completely rebuild a section of Rumming Rd. in Lantzville which washed away.
"It's about a 12-metre hole that's been created, so to fix that is going to take a bit of time." He expected their "head-to-toe" rebuild of the road, where the foundation is slowly and carefully built back up, will take four-to-six weeks to finish.
It will be an even longer fix for the damage to Melrose Rd. in Whiskey Creek.
Pearson said a temporary bridge will be built over the washout while engineers assess the seriously weakened foundation.
"Because the water there is flowing quite fast and still quite high, it's going to take us a while before we can actually get in there and come up with a permanent fix," he said.
The temporary bridge is expected to be in place within two weeks.
Thankfully, work on Martindale Rd. in Parksville should be finished by the end of the day on Wednesday.
Oliver Watson, operations manager for Emcon Services Inc., said a significant amount of gravel poured onto the road when the Englishman River flooded its banks.
Parrys RV Park at the end of the road was also seriously flooded and more than 20 people evacuated.
"The end of the road washed away, as well as a berm Parrys RV Park had constructed last time we had this flooding," Watson said. "They'd constructed a berm in hopes of protecting their property from further flooding, but unfortunately it broke free and went through their land again."
Watson said the road floods annually but is badly damaged roughly every 10 years.
"We'll be reconstructing the road back to what it originally was last week. It'll happen again, there's no way of stopping it."
Story written by Spencer Sterritt