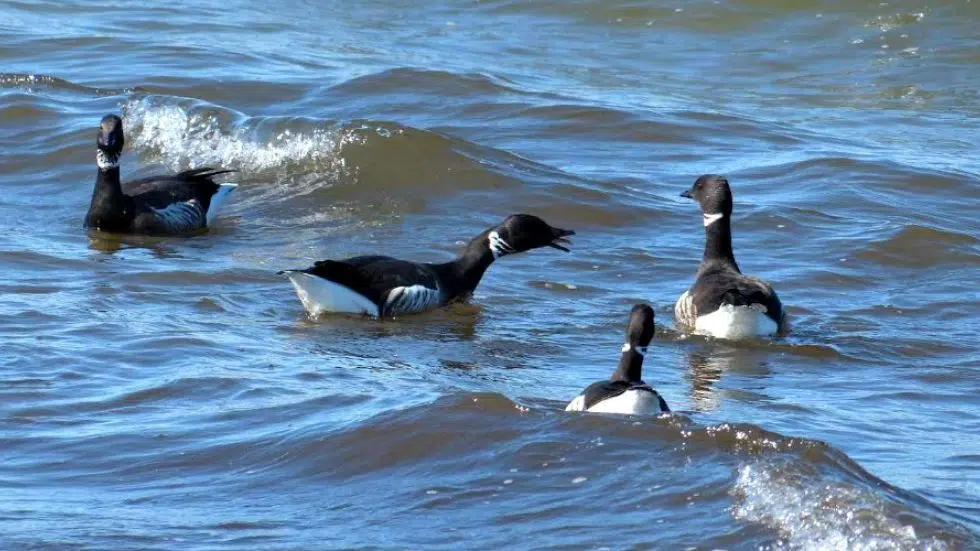 PARKSVILLE — Thousands of Brant geese flocked to the shores of the Oceanside region, in what nature enthusiasts describe as an amazing natural phenomenon.
Dr. Lynne Brookes, past president of the Arrowsmith Naturalists, said preliminary counts suggest nearly 6,600 Brant geese rested and foraged on the food-rich shores between Parksville and Qualicum Beach.
She said the geese are in the midst of a journey thousands of kilometres long from northern Mexico to the Canadian Arctic.
"They need desperately to rest when they arrive, they need to eat as much as they can to pack on weight, to pack on fat, to make the next leg of the journey to southern Alaska."
She said a brief stop in Alaska for more food is followed by a lengthy flight to the northern Northwest Territories.
Brookes said the Oceanside region supplies an abundance of food, including herring eggs which stick to eel grass and sea lettuce.
"It's very highly nutritive food, it makes this area just perfect for them," Brookes said. "It's not that common to have that good of a combination, that's why this region is so important."
Another critical element is an abundant fresh water supply from streams to local beaches.
Brookes said the primary predator of Brant geese are the Arctic fox, which is why it's important to keep dogs off beaches in the Oceanside region in March and April.
The annual Brant Wildlife Festival gets started on Monday, March 19 and runs through April 28.
Several events are planned, including bird counts and nature walks, throughout the Oceanside region.
A complete list of events for this year's festival can be viewed here.
Story written by Ian Holmes
ian@nanaimonewsnow.com