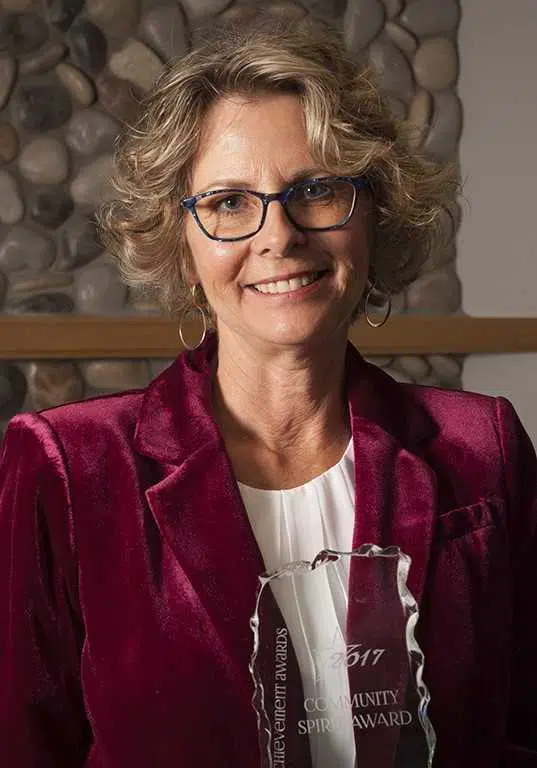 PARKSVILLE – Winning the first ever Community Spirit award in Parksville still hasn't sunk in for Renate Sutherland.
She was honoured at the recent Business Achievement awards and when told Mayor Marc Lefebvre said choosing her as the first recipient was a "no-brainer", Sutherland humbly laughed it off. She said she was shocked to win but it's an honour she shares.
"Yeah, I've stuck my little messy fingers into a few things, but it's never things I've done alone. It's because I've managed to work with some fabulous people."
She moved to Parksville in 1981 and has been involved in a number of initiatives over the years, many of them addressing homelessness.
"As i said on the awards evening, I'm really proud to call myself a Parksvilleite," she said. "I'm really passionate about this community. I love it here. I've chosen this as my home. I'm also very passionate about doing what's right, for the right reasons.
Even though she has retired as executive director of the Society of Organized Services in January, Sutherland says she will continue to give back to the community. She is currently in the early stages of planning a homeless count in Parksville.
The other winners recognized by the Chamber of Commerce included:
Service Excellence Award Winner: Angela Giannotti, CruiseShipCenters
Small Business of the Year: Namaskar Yoga Studio
Large Business of the Year: Eat Fresh Urban Market
Outstanding Workplace – Employer of the Year : Kiyo Salon & Boutique
Young Professional of the Year : Meaghan L'Heureux, Iron Warehouse
Not for Profit of the Year : Forward House Community Society