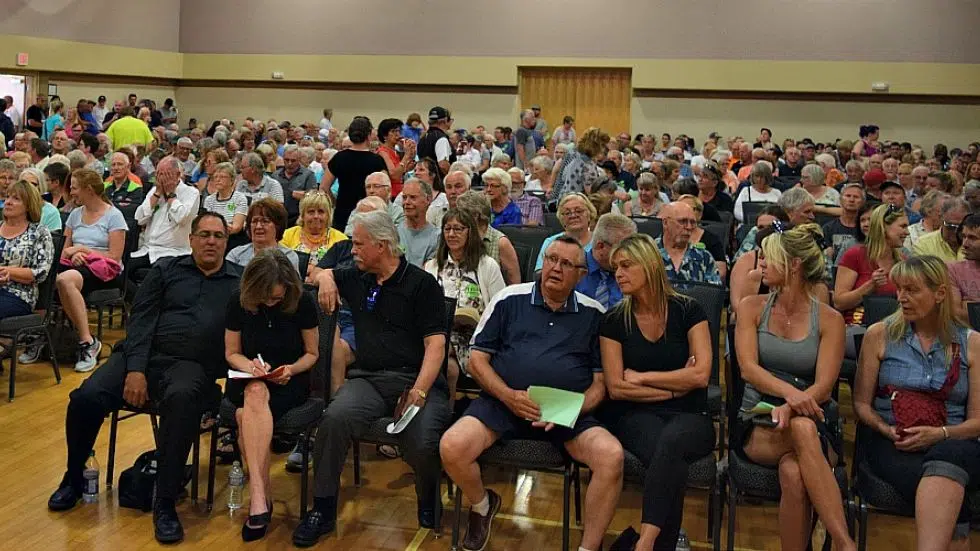 PARKSVILLE – A $7-million supportive housing project in Parksville has deeply divided the community.
The signs and scars were apparent at a public hearing on Tuesday at the Parksville Community and Conference Centre. More than 100 people spoke, many two or three times, in opposition of the development at 222 Corfield St. S., which will offer roughly 50 units of housing for those currently or at risk of being homeless.
It was a night marked by fired-up emotions, yelling across the gymnasium, cheers and jeers.
Calls of "shame on you" and boos echoed throughout the gymnasium when one man argued for affordable housing instead, saying it would help "the people who really deserve a nice place to live."
"I'm all for affordable housing but not wet housing," was the common refrain from those opposed to the development. "We're not monsters," many said.
"I cannot get behind the fact they will be able to use drugs behind closed doors," community member Katrina Olafsson told the crowd of hundreds. "I don't feel putting vulnerable seniors in the same complex as these people is a good idea."
Concerns about the lease on the project lasting for 25 years, the decision being made by a Council which could see a dramatic shakeup after the fall election and the impact on area tourism were also raised.
Roughly 70 supporters, many of them also repeatedly stepping up to the microphone, countered by saying those in need are already visibly on Parksville streets and offering a housing solution with supports in place would help curb a problem in the community.
"We can't just be inactive and do nothing," Parksville resident Sabina Schulz said. "It's not that they're coming for the project and I think we have to help them."
Mayor Marc Lefebvre was forced several times to keep the crowd on track, reminding them the public hearing was about where the project was located, not who would use it.
As the meeting crossed the three hour mark and the crowd thinned, the arguing turned more aggressive, with comments yelled back and forth and people marching up to the respective microphones to reply to someone from the other side of the debate.
There were numerous well-received calls for a referendum about the project, an idea which was already narrowly voted down by Parksville council.
The zoning bylaw for the supportive housing development at 222 Corfield St. S. will come back at the July 4 council meeting.
Spencer Sterritt